What is the best VOIP Solution for India's Small Business?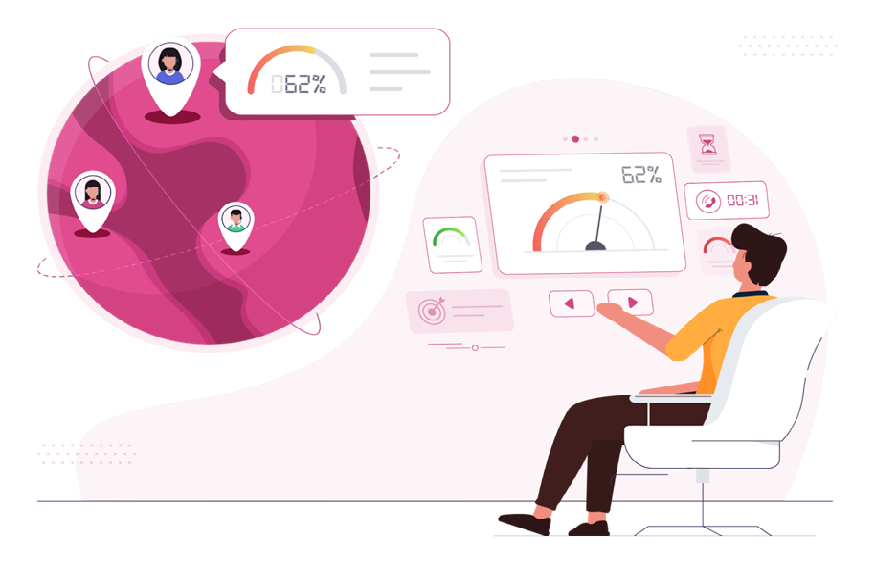 With the ability to place calls through the internet, you save significantly on call costs alone. VoIP uses your internet connection instead of regular telephone lines, freeing you from hiring expensive copper wires every time you make and receive calls from the phone company. Small business phone service providers make the business routine much faster and easier.
Traditional Landlines Vs. VoIP Systems
Huge upfront costs for on-site hardware
Time-consuming and complicated installation process
Expensive fees for service and hardware upgrades fees
Specially trained IT technicians for maintenance
Additional fees for premium technical support
VoIP Systems
On-site hardware not required
No charge for fast installation
Upgrades are free
Free 24/7 customer support
Self-manage the system using your mobile
Add or remove lines anytime
Auto attendant
Auto-attendant is an alternative to a human receptionist that greets incoming callers and directs callers to the appropriate customer support representative. The VoIP voice menu system efficiently manages high call volumes and is available on hosted PBX or on-premisecall center solutions.
Call recording
Call recording software allows you to document phone calls between your reps and customers monitoring work from home productivity for training purposes, examine the quality of your service, make you aware of the commonly faced problems by your customers, and more. It also allows you to improve on existing customer service or efficiencies in team communications because your reps know that the calls are being recorded, encouraging them to perform their best.
Predictive Dialer and Power Dialer
Predictive dialer software dials several contacts simultaneously to ensure that your sales or any outbound team are on call at all times. Once a rep finishes the call, they are immediately connected to the next call. Predictive dialer skips unanswered calls and is ideal for making many outbound calls in minimum time with minimum effort. It connects your sales reps with prospects more quickly without your representatives having to enter each number manually.
Power Dialer dials only one contact per rep, ensuring that an agent is always available when connecting to the following contact. Your representatives can enable auto-dial mode to control the dialing rate. It helps personalize your calls and ensures that you contact everyone from the contact list.
Centralized management
A good VoIP soluton includes a centralized data portal that lets you add, remove, and configure phones and manage all features. Centralized management stores customer information in one single database. This ensures there is no data redundancy and improves efficient product data management.
Call flip
With the call flip feature, you can transfer calls from one device to another with the press of a single button without interrupting the conversation. When you need to get away from your computer but are in the middle of a crucial call, this feature comes in handy. Without the customer's knowledge, you can transfer the call from your desktop to your phone.
Hotdesk software
The hot desk is a popular telephony feature that allows you to access personalized profiles and configurations by logging into a shared desk phone. It's a convenient way for employees to access their voicemail and features from any office phone without buying separate hardware.
Call queues
The call queuing feature ensures that your customer's calls are answered even if all the lines in your company are busy. The callers are held in a queue, waiting for the next available rep to assist them. Call queuing feature is essential, especially for companies with limited employees who struggle to answer all incoming calls at peak times. on-hold music and information about their estimated waiting time keep the customers informed, which is helpful in customer retention.
Click to dial
Click to dial from CRM databases feature is for companies that maintain their contact records about people and other companies. VoIP offers your customers the option to click on a phone number directly on their computer screen and make a call to your company without the need to dial on their mobile dial pad manually. The reduced customer effort improves the customer experience.
Call Monitor
Call performance monitoring is an essential tool for your company to improve your staff performance and ensure that your customer's calls are answered on time. Managers and quality assurance analysts commonly use this computer program to evaluate a representative's service interaction with a customer.
Analyze Reports
The number of calls being answered daily, weekly, and monthly.
The number of outgoing calls.
Number of customers currently in queue.
The number of calls missed.
Average time it takes to answer calls.
Web portal
You will have access to accurate metrics, including the number of incoming and outgoing calls, number of voicemails left in the system, length of an individual phone call, and more. Like many companies, you can also access your call recording for training and quality assuage reasons.
For small businesses with limited funds, VoIP solutions are appealing because they integrate with multiple software, enjoy similar features and functionality, and enable you to keep up with large companies.
AavazFree PBXis your one-stop shop for all your cloud telephony needs that offers user-friendly VoIP solutions. Aavaz PBX works closely with its clients to provide a customized VoIP solution to ensure that the solutions meet its present and future business needs. Contact Aavaz PBX now to learn more.